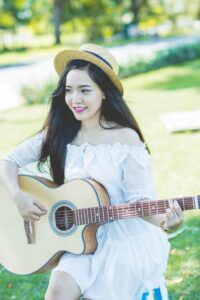 For every beginning guitar player, changing chords smoothly and efficiently can be the hardest thing to do. It is one of the many guitar learning challenges that can be very frustrating as it feels like it's holding you back from progressing quicker. There is however one easy trick that you can use to make your chord changing more smooth and efficient.
The trick is to use the open strings to our advantage by playing it right before changing a chord. Here's an example on how to do this: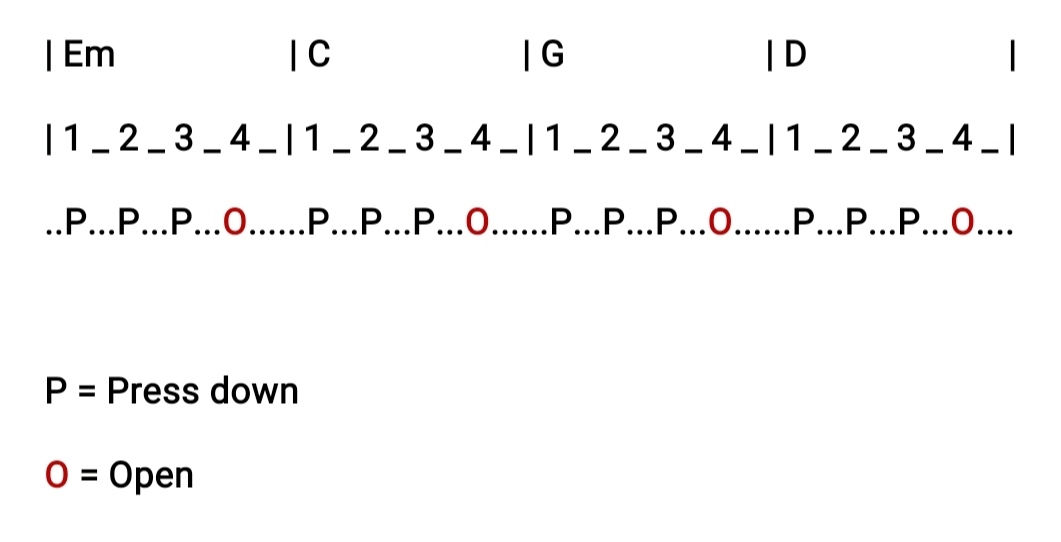 Let's say we are doing a very basic strumming pattern with 4 strum per chord. We would keep our fingers down on the strings (P) for the first 3 strum on the 'Em' chord, and lift it up (O) on the fourth strum before changing to the 'C' chord. Simply repeat the same process when changing to the 'G' and 'D' chord.
Here's another example with the open strings played on the '&' of the 4th beat.
By playing the open strings on every last moment before changing a chord as in the examples above, we are giving our fingers enough time to be ready for the next chord that's coming. The open strings also provides the cover to fill in the gap for the brief moment that we let go of the chord, and the result is a smoother transition between chords.
You should try to implement this trick to your playing right away. Try it now!..:)..And until next time, keep playing.